Best Harness For Pugs: What To Look For Before You Get One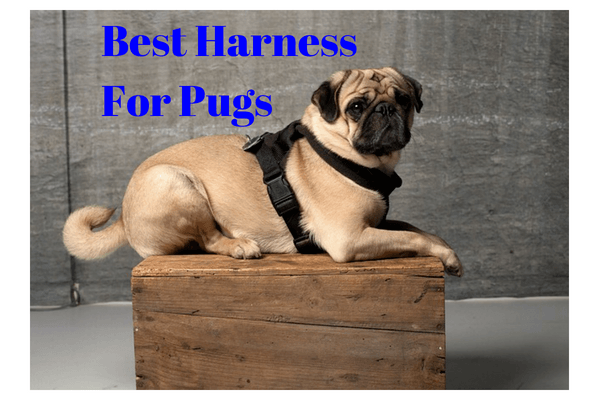 One of the things you should not forget with your Pug is that to do proper exercise, and you will often have to walk it. To do this, you may have to choose the specific accessories because not all suit all kinds of dogs.
Pugs, in particular, have special requirements and will need a harness rather than a collar. Here is for you the guide on choosing the best harness for Pugs.
Quick Comparison Table
Why Choose A Harness Instead Of A Collar
When you become a Pug owner, one of the first things you have to do is get everything you need for its well-being.
There are many reasons why a harness is better suited to a collar for your dog, especially if it is a Pug. Indeed, Pugs are a very peculiar dog breed. Relatively small compared to their Molossian cousins, this breed of dog, although robust, has its weak points.
Because of their flattened noses and their small trachea, Pugs can be prone to respiratory problems. And when everybody is aware of this, you agree that a collar is not the best solution for your little friend. In fact, when you walk the dog, it often happens that you tend to hold it while he struggles, for one reason or another.
The collar would exert pressure on his throat. This, coupled with respiratory problems, could cause asphyxia and create other diseases in the long term.
The harness, on the contrary, would distribute the load on all the rest of his body, sparing his throat and, at the same time, his airways.
Therefore, the harness is a better alternative to the collar for your Pug.
What To Look For Before You Get A Harness For Your Pug
Comfort and safety are the two main options to consider before buying a harness for your Pug.
A harness should fit properly so that the dog will not be limited in its movements. At the same time, you must be sure that it cannot escape and put itself in danger when you are walking on the sidewalk.
The strength of the leash attachment points is another crucial factor, perhaps the first to remember.
The quality of the harness manufacturing materials is also essential. Because your Pug has sensitive skin, you have to choose a harness whose material is soft, breathable and adapted to the delicate skin of your Pug to avoid possible irritations.
Other Factors
Durability. A harness must withstand the stresses, and seams and the points of attachment of the leash must not alter due to water, mud, or snow.
Size. As often rightly suggested by the manufacturers, always consult the size chart and take the appropriate neck and chest measurements of your Pug to prevent excessive rubbing if too large or movement limitations if too tight.
Padding. Suppose you like taking long walks with your Pug. In that case, it is preferable to have a harness that prevents chafing, with padding in critical points such as underarms. 
Washable harness. Some can only be hand-washed, but sometimes, if used often, you might prefer a machine-washable harness.
Handle on top. Some harnesses come with a top handle, which is useful in cases where it is necessary to raise the dog quickly.
Reflective materials. If you often go for evening walks, harnesses with light-reflecting components, or better yet, adding a LED light collar can be ideal.
Main Types Of Dog Harnesses
Although there are many types and models of harnesses on the market, they can all be divided into three main categories, depending on where the leash attachment point is located:
Back-Ring Harness. The leash attack is on the dog's back. With this type of attachment, the main advantage is that the leash cannot get caught in the dog's legs. The disadvantage is that they do not allow full control for dogs that usually walk in front of you, pulling all the time.
Front-Ring Harness. The leash attachment is located at the front, under the throat, or in front of the dog's chest. With this type of harness, the situation is the reverse: greater control of the dog's direction. The disadvantage is that the leash can get caught on the front legs. Suitable for the most obedient Pugs.
Dual-Ring Harnesses. In this case, the rear attachment is used for normal walking, and the front is used when the dog starts to pull. Dog trainers often use Dual-Ring harnesses.
What Are The Advantages Of Harnesses
Offers you more comfort for your Pug during walks. The leash attachment is often located on the back rather than the neck level. So, your pet will walk by your side, and you won't have to pull it all the time.
You will avoid possible skin and respiratory problems due to the collar.
You keep better control of your dog. Dogs often tend to shoot their leash and exercise enough strength to do it. It's getting difficult to control them with a collar. The harness spreads the force exerted by the dog on the whole body rather than in one point, so you will have much more comfort in controlling it.
The harness is also perfect if you intend to perform specific training for your Pug.
Video: How To Measure The Size Of Your Pug
Recommended Best Harnesses For Pug Dogs
Finding a harness for a Pug is very easy, even a little too easy. So be careful to avoid bad choices when you know how vital this harness will be for your dog. Here are the best harnesses recommended:
1. Bestia Studded Leather Harness
This harness is a piece of Goldsmith's craftsmanship made by the Bestia firm. It is made of real leather and is padded with soft foam for extreme comfort. It is Y-shaped and is suitable for small and medium-sized Pugs and French Bulldogs. The exterior is covered with silver-colored metal pieces, which gives it a rock and roll side, perfect for giving your Pug the look of a Rockstar! Available in two colors: white-black and red-black.
Features
Handmade quality made in Europe
Unique design
100% leather
Softly padded chest plate
Nickel-plated rivets in silver color
Color: black & white
Small to medium-sized dogs.
2. Bulltastic Panda Dream Reversible Pug Harness
This H-shaped harness is just beautiful. It is made of high-quality materials to ensure perfect comfort for your dog. The Bulltastic Harness is available in two different sizes and is peculiarly adjustable for a perfect outfit.
It is also open to giving your dog more freedom in his movements. An excellent choice in terms of durability, comfort, and design.
Features
Perfect for small dog breeds
Ergonomic comfort design
Extensible for unrestricted movement
Made with high-quality materials
Thanks to the reversible design, the harness can be worn on both sides
3. UrbanPup Red/Yellow Tartan Harness
If you like to clothe your pug or wear other accessories, you will love this harness. This dog harness embodies the urban style with a black harness and leash. It is H-shaped and is designed with scratch-resistant 600D nylon to combine comfort and durability.
Features
Made of strong scratch-resistant 600D nylon
Adjustable padded harness
Reflective stitching design 
Five sizes available
4. Embark Adventure Dog Harness
This cool harness by Embark Pets is an excellent choice for everyday walks. Lightweight and durable, it is made from no-rip nylon and anti-chafe comfort padding.
The harness is adjustable on the stomach and on the upper part of your dog's chest to ensure a secure fit.
With two attachment points, it's very easy to put on and take off and very practical for a happy walk!
Features
Anti-irritation padding
Two modes: No pull and regular
Reflective fabric for night visibility
Handle for additional control and lifting
Size: small
Color: orange
5. Papipaw No-Pull Adjustable Dog Harness
Papipaw is a practical and resistant harness that is easy to put on and wash. It is equipped with a handle that facilitates the help and control of the dog when necessary.
The alloy locking tabs ensure fast and secure closure. The straps are fully adjustable and allow you to adapt to the dog's size quickly.
Features
High-quality and breathable material.
Water-resistant.
Soft and comfortable foam pad.
Quality and robust nylon handle on the back.
Quick and easy to pull the leash to make it easier to control your dog.
Easy to wear and remove.
3M night reflections to keep your dog safe.
For small and medium-sized dogs.
Two colors are available: black and orange.
6. Xanday No Pull Dog Vest Harness
Control your pets easily and quickly without pulling when walking or jogging with Xanday Dog Harness.
The soft and breathable foam padding ensures a comfortable touch for your lovely Pug dog. The harness has two snap-in straps, one around the dog's neck and one under the torso, to maintain a secure and comfortable grip.
With the help of the image provided by the manufacturer, measure your pet and choose the right harness.
The Xanday brand is a company specializing in accessories and products for pets. The materials and manufacture are of the best quality to ensure the happiness and pleasure of the owners and the pets themselves.
Features
Comfortable and lightweight with soft and breathable foam padding.
Made of high-quality nylon.
Reflective material to ensure night visibility.
Adjustable and easy to wear: designed for great control, easy to adjust, and the strap allows a custom fit for your adorable dog.
Handle in the upper part to maintain control when there is no leash.
Available in 3 colors: red, blue and black.
7. PET ARTIST Leather Adjustable Harness for Small Dogs
This classic look product from Pet Artist is made of genuine leather. Comfortable and lightweight, durable, soft, and friendly to small dogs' skin. This cool no-pull harness has been designed to give style and comfort to the walks with your little friend.
The D-ring on the top is the attachment point for the leash and the quick-release buckle, easy to adjust, serves to adapt to the size of your dog's neck and chest.
Some customers have complained about rubbing problems on the skin under their dog's belly. The product is, in any circumstance, offered with a 100% money refund guarantee.
Features
Made from high-quality genuine leather
Totally handcrafted
Stylish and classic look
Effective design to evenly distribute traction on the dog's body
8. RUFFWEAR – Front Range All-Day Adventure Harness for Dogs
The Ruffwear harness is extremely comfortable for dogs to wear. It is also designed to be quickly put on and removed.
This Front Range harness is beautiful to look at and is made of high-quality materials, perfect in every detail.
Made to last, it is light and ideal for outdoor walks.
Features
Padded straps for comfortable load distribution on the chest and stomach
Four convenient adjustment points for a complete range of movements
D-ring centered on the back
Cool pocket to store your dog's ID tags
The harness is easily visible thanks to the reflective finishes
Six available colors: blue, green, orange, purple, gray, and berry.
9. Bolbove Stripe Vest Harness and Leash Set with Grey Hood
As mentioned above, harnesses are a better alternative than collars because, besides being more comfortable, they are safer and do not compromise the health of your beloved Pug, avoiding concentrating pressure only on the throat.
Like other manufacturers, Bolbove recommends that you measure your dog's neck and chest well to choose the right size of harnesses. No doubt a tip to follow!
This elegant product has been added to this list to diversify the choice with an original harness that looks a bit like a gilet. Furthermore, a fashion hood makes this striped vest harness a real garment, different and original.
Useful in case of sudden rain!
The set comes complete with a leash and a silvered metal keychain as a gift.
Features
Comfortable and super soft.
Fits thanks securely to the adjustable design with a velcro torso and a buckle at the neck.
Padded harness, super comfortable and soft.
Hooded to make your Pug more cozy and fashionable.
Nylon woven leash, 47 inches long and 0.6 inches wide.
D-ring in the back for the leash attachment.
Very easy to remove and put, thanks to the Velcro and the snap buckle.
Available in red and blue colors.
10. Didog Velvet Tuxedo Gentleman Suit Dog Harness Vest with Handle
As the last proposal, I would like to include this cute harness with a beautiful bow tie (or Papillon).
I would add as a personal opinion that I would use this accessory with prudence because based on the reviews of the customers who bought it, the impression is that this product is mainly a cloth rather than a harness.
Maybe it could only be used for short walks as an alternative to a more traditional secure and safe harness.
However, its design is irresistible: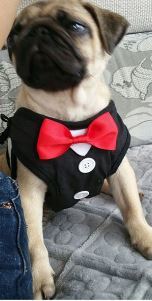 Features
Made of soft and comfortable fabric.
Red papillon and ornamental button.
Combined leash.
Easy step-in to wear and take off.
30 days of free replacement and 100% refund.
FAQs
Can Pugs use collars?
A dog collar is not recommended for a Pug. Their flat noses may create breathing difficulties, and the trachea is a concern, too. Then a collar is not a good option for a Pug.
How difficult is it to train a Pug?
 One of the possible reasons Pugs are more difficult to train than other breeds is their stubborn character and because they get easily distracted. To deal with this problem, use the promise of a reward to motivate your Pug to concentrate on you. Never give gifts without asking for action from your Pug first.
Do Pugs like walks?
Pugs do not require a lot of exercise, but they need at least one or two daily walks.
How big do Pugs get?
Adult Pugs weigh between 13 and 18 pounds (male and female). On average, they are 10 to 15 inches high on the shoulder.
Conclusion & Best Offer
Although finding the right accessories for dogs is no easy thing, doing it for Pugs is even more complicated. Fortunately, thanks to this guide, you are now able to make the right choices for your beloved Pug.
Best Offer
The best recommended harness is Embark Adventure Dog Harness, which combines design and safety.
Embark Adventure Dog Harness
High-quality manufacturing, solid attachments, extremely easy to adjust, Simple to put on and take off.
The Alternative
The Xanday No Pull Dog Vest Harness is recommended as an alternative. The top handle, together with its excellent features, is a great reason to buy it.
Xanday No Pull Dog Vest Harness
Get seduced by one of the best harnesses for Pugs we recommend, and you will make a great gift to your little friend.