Best Shampoo For Pugs: Three Products To Maintain a Healthy Coat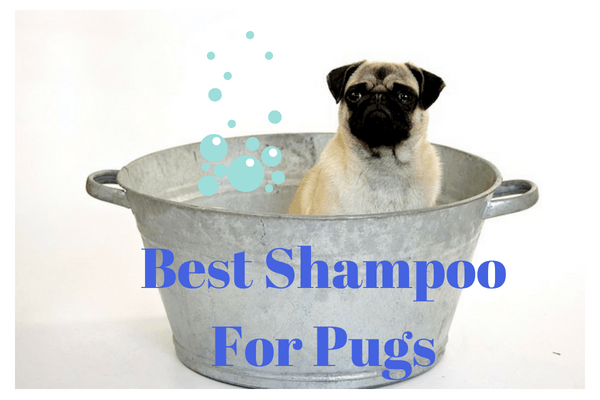 A lovable, goofy breed that you can ask for as a pet is a pug. Sadly, their unique physical build and facial features make them susceptible to several health problems like joint issues and respiratory illnesses.
While nutrition is the first consideration in maintaining overall wellness, cleanliness and hygiene are close. When you think of hygiene, the first thing that comes to mind is shampoo. Choosing the best shampoo for pugs and conditioners will leave its fur shiny and healthy.
Most canine groomers also recommend using a leave-in spray, given the breed's tendency to acquire skin irritations. Unlike others, the coat is denser for a Pug than the skin. Pugs have a double layer of dense fur to protect the underlying sensitive skin from any possible exposure to infectious agents.
Pug Skin Care: 3 Essential Products to Maintain a Coated Health
1. Shampoo
A mild shampoo must be used once in three weeks unless the bathing regime for your pug differs. A shampoo works for gently cleansing the accumulated dirt and body oils from the skin's surface. Using the right shampoo keeps the skin clean and wards off common issues like itchy and dry skin. Also, a shampoo primes the coat to the application of a conditioner.
The importance of a good shampoo:
Choosing the right shampoo is important because, unlike the case of human shampoo, for a pug, it is lathered over the entire body. Pugs, like other dogs, maintain a constant production of body oils to coat the skin to prevent infections. These viscous oils accumulate over time. In as little time as three weeks, the concentration of the oil produced by the skin is high enough to incite skin problems if not removed. Skin problems that arise due to lack of shampooing are bumps, rashes, and pimples. These, when left untreated, will start to smell bad.
Pugs are shedders. Regardless of the season, fine hair is shed all through the year. The shed hair is mostly accumulated in the coat, and these are removed when the right shampoo is used.
Apart from the two reasons discussed above, using an inferior shampoo with the wrong pH balance harms the already sensitive skin. The ideal pH range for a pug shampoo is between 6.5 and 7.5. The indigents are also recommended to be natural or naturally derived from avoiding skin irritation.
2. Conditioner
A conditioner is used along with the shampoo once every three weeks.
If the shampoo is meant to clean the skin gently, the conditioner ensures that the fur remains lustrous.
3. Leave-In Coat Spray Conditioner
A leave-in coat spray is applied more frequently than shampoo and conditioner. Applying a leave-in coat spray once every 1-3 days offers regular protection from a wide range of disorders.
Best Shampoo For Pugs: A White and Lighter Fur
3. Healthy Breeds Bright Whitening Dog Shampoo
A shampoo from the house of Healthy Breeds which enhances the luster of light-colored coats apart from gently cleaning the underlying skin is Bright Whitening Dog shampoo.
The shampoo ensures that the coat remains tangle-free and easy to brush through. What's more, the lingering smell of Pina Colada is refreshingly pleasant. Good dog shampoo is pH balanced, and this product is well within the pH range.
Customers who've tried the shampoo highly recommend its use. For pets with an active skin allergy, the shampoo's effectiveness may seem masked until the time the ailment is treated.
2. Healthy Breeds Oatmeal & Aloe Dog Shampoo for Sensitive Skin
Since pugs are prone to skin allergies and rashes, a sensitive shampoo that soothes the irritation is beneficial. The innumerable skin benefits of aloe vera are as effective in canines in humans.
Being hypo-allergic in nature, this shampoo is made from natural indigents. It is safe to use over a topical flea control treatment. The shampoo is also soap-free and seals in the skin's natural moisture. Aloe dog shampoo from Healthy breeds to safe to use on puppies over three months old.
Apart from containing Aloe Vera and oatmeal, the shampoo is infused with Vitamins A, C, E, D, F, oil extract of coconut and almond, infused with hydrolyzed proteins of oatmeal and skin conditioners.
While the shampoo is gentle on the skin, it is tough on dirt. Try this amazing product, and you will pick up the second bottle.
3. Healthy Breeds Dog Deodorizing Shampoo – Sweet Pea & Vanilla Scent
Why not have your pug leave behind a lingering trail of the smell of sweet pea? If you thought such signature fragrances were limited only to the human skin, you are up for a pleasant surprise.
Healthy Breeds offers a pug shampoo that smells of vanilla and sweet pea. Apart from being an olfactory delight, the shampoo is formulated to clean the skin and gently remove accumulated oils. An added benefit is the luxurious shine it imparts to the fur.
After the first few washes, the coat becomes easy to brush through. Good dog shampoo is the one that readily foams, and one dollop of the deodorizing shampoo is sufficient to rub down the entire length of your pug. Want to make your living room smell of vanilla and sweet pea; order a bottle of the shampoo here.
Conclusion
Why be satisfied with one bottle when you can have all three at a steal deal? With all three bottles in stock, you will have a year's worth of supply of pug shampoo (depending on how frequently you use the product).